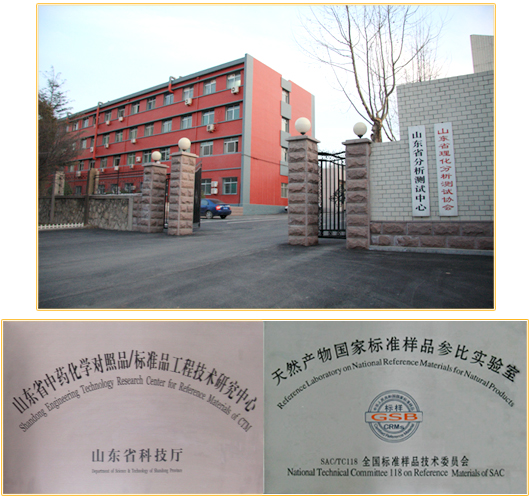 Shandong Engineering Technology Research Center for Reference materials of Chinese Traditional Medicine (CTM) is a provincial engineering research center supported by Department of Science & Technology Shandong Province, and is a new kind of research institution operated and managed in enterprise modes, with Shandong Province Analysis & Test Center as supporting institution. The engineering center has strong research strength and advanced instruments, which included "Taishan scholar" position and the first institution of "Reference Laboratory on National Standard Materials for Natural Products" in China; among the 96 employees, 32 are senior technicians, 11 have doctor degree and 28 have master degree; all the equipments valued over 38 millions of CNY, more than 100 sets of apparatus, mainly involved INOVA 600MHz MRI spectrometer, Agilent 6520 Q-TOF, Agilent 6410 RRLC-QQQ, SPEED-100 supercritical fluid extraction equipment, ZN40A multifunctional extracting tank, preparative scale High Speed Counter Current Chromatography, medium-pressure preparative chromatographic fractionation system, and so on. There is an extraction & separation lab of 800sqm and analysis & test labof 1200sqm.
Since our foundation, we have built technical platforms (extraction and purification, QC of Chinese traditional medicine) and completed a series of research projects of China, Ministries and province, including more than 40 projects from state natural sciences fund, China standard substance technological committee, Shandong province Chinese traditional medicine modernization technology item, Shandong province self-innovation important technology research item, 2 Chinese patents (applying 5 tenets), 8 awards and over 100 research papers (20 are SCI papers). Now, our center ranks the leading position in this field, and we are reported by several famous news papers and websites.
We have completed Detection facilities and experienced technical team to separate, purify Chinese traditional medicines and control quality. With several years experiences in the research and development of chemical materials of Chinese traditional medicines, thus we got the mission from China standard sample committee and China drug & NICPBP to research and develop reference materials of Chinese traditional medicines, and became one of suppliers of NICPBP for chemical reference substance of Chinese traditional medicine. we have developed over 200 kinds of separation-purification methods of Chinese traditional medicines, and produced over 200 kinds of reference substances of Chinese traditional medicines, including Chlorogenic acid, Morroniside, Psoralen, cyperone, Tanshinone, and so on. Especially, 13 of them obtained the certificates of China standard sample and filled market blanket of China, including Psoralen, isopsoralen, magnolol, Honokiol, arctiin, Dictamine, Fraxinellone, Obacunone, Echinacoside, Formononetin, Biochanin A, Isoquercitrin and Geniposide, etc. Up to now, our center provides services to more than 1,000 enterprise, institutes and universities.
Relying on experienced high-tech team in the fields of separating and purifying of natural products, we devote to researching and developing new separating and purifying methods of high pure pharmaceutical ingredients from plants. We are striving to provide standard samples and technical supports for pharmaceutical enterprises, health care enterprises, universities and institutes, and working hard for their satisfactions. We are able to meet your demands from mg-level to KG-level products, or provide high pure monomers from plants that customers offer us. All reference substances are tested and indentified by modern instruments (such as UV, IR, NMR, MS,) strictly, thus all our reference substances have accurate and reliable performances.
Sticking to such idea of "creative methods, creative technology" and spirit of "be honest and efficient, quality supreme", Shandong Chinese Traditional Medicine Chemical Reference Substance (Standard Substance) Engineering Techniques Research Center looks forward to cooperating with you for mutual benefits; let's work together for mutual-development and bright future!